The Norwegian artist and musician Magne Furuholmen (also of A-ha) invited his myspace friends to collaborate with him to create a series of dolls of him for an exhibition in Norway: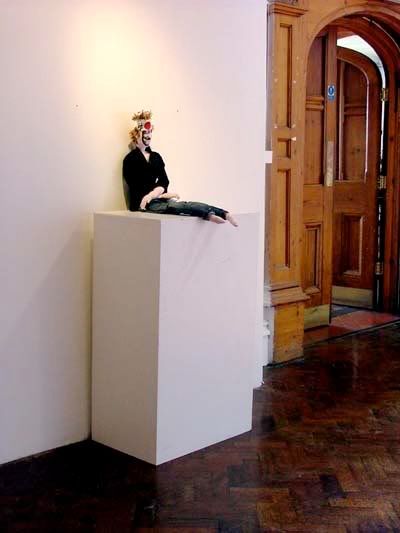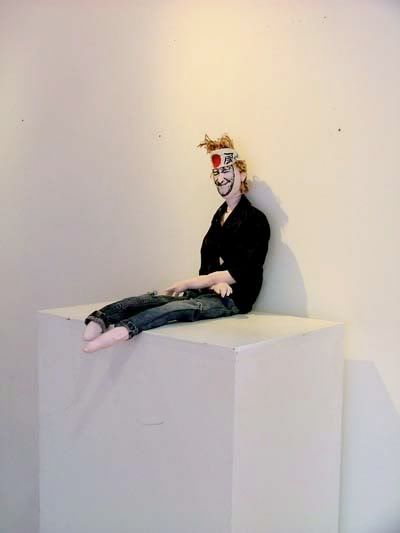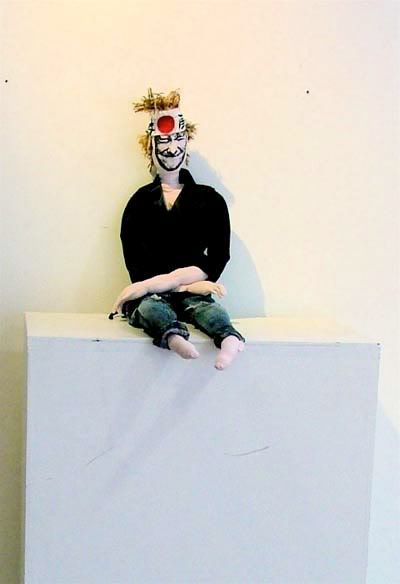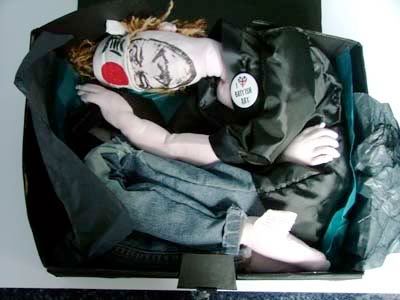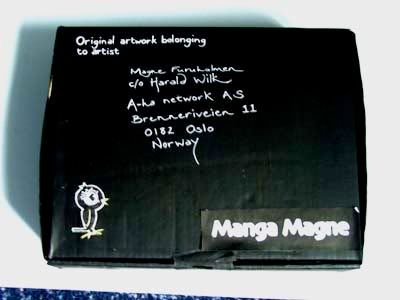 "Manga Magne" doll
cotton, wadding, wire, wool, denim
Two of two dolls I made for Magne Furuholmen's art exhibition at Sørlandets Kunstmuseum in Kristiansand, Norway, during August - September 2007
"Manga Magne" was inspired by a photo of Mags wearing a kimono. He has fully articulated fingers so he can do karate.
He was exhibited in Greestone gallery before appearing with 98 other dolls as part of Magne's installation "Mange Magne" (Norwegian - Many Magne) in Kristiansand, Norway.
The dolls formed an installation in response to an existing painting by the Norwegian artist Leonard Rickhard, entitled "Tired Model Airplane Builder II". There was also a sound part to it, consisting of the dolls "voices".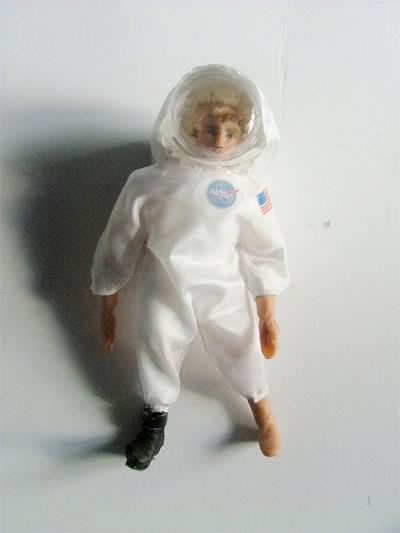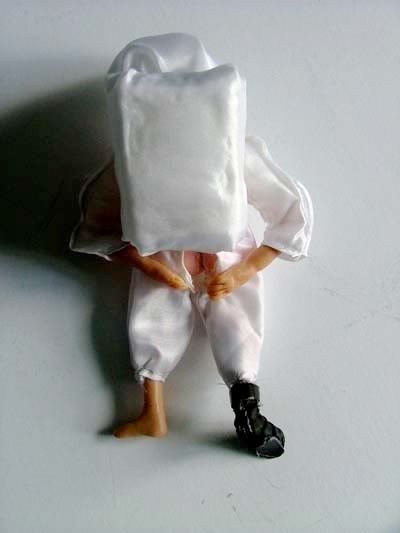 "Minor Magne" doll
approx 12cms polymer clay, fabric, plastic, wadding, wire, acrylic
One of two dolls I made for Magne Furuholmen's art exhibition at Sørlandets Kunstmuseum in Kristiansand, Norway, during August - September 2007
"Minor Magne" is based on Mags from the Minor Earth Major Sky video. The space suits were the same ones used for the film Apollo 13. During a press conference, Magne decided to demonstrate the ease with which to go to the toilet in the suits, so I had to make adjustments to the rear of the suit.
http://www.a-ha.com/cparticle7840-417.html
http://www.allaboutjazz.com/php/article.php?id=26829
http://www.magnef.net/dolls/
A series of coincidences stemmed from an animation that I made in the same style of drawing as A-ha's Take On Me video. At the same time, Richard Linklater released the film A Scanner Darkly, which was made in verisimilitude rotoscoped animation. I also became inspired by his 2001 film Waking Life, A-ha as a band had new material, although they had seemingly disappeared since I was a girl in the 1980s, and the first animation I made was based on these influences and the philosophies behind them, this animation was part of a larger installation in which I was interested in the way that in Waking Life, the first scene is almost the same as the last scene, which I interpreted to mean that everything that happens in the whole film takes place in one instance, the same way that when you wake up and fall asleep, you seemingly dream for hours, yet only a short time passes before you awaken again. The blackbird represents the liminal realm between waking and sleeping, four and twenty blackbirds are twenty four hours in the day.
This was intended to be projected inside a birdbox, however, technical difficulties meant it was displayed on a monitor as a looped animation, along with a flicker book version.
Still images from video and animation were juxtaposed onto pages from a book about birds in order to create a part video / part animated flicker book.
Additional stills were mounted on the wall as part of the installation.
Fine Art Proposal
Synopsis
"Exodus"
The Exodus proposal is to make a full scale replica of Lincoln Cathedral out of haystacks, or straw bales to be more accurate.
Like Archigram and Superstudio, both architectural 1960's / 70's art collectives, I give free reign to my imagination, and it isn't necessarily meant to be completely serious. Art should be fun!
Project Narrative
The idea for "Exodus" comes from an album cover for the 1970's folk rock band Steeleye Span. The band is significant with Lincolnshire folk history. John "Steeleye" Span was a waggoner from Horkstow Grange in North Lincolnshire; the name of the band derives from a legend about a fight he was involved in with John Bowlin.
Their album "Commoner's Crown" depicts a crown made of straw, which inspired the idea to make a Cathedral out of straw, because of the interesting analogies between the Cathedral and the surrounding farmland; the Cathedral being the highest object in Lincolnshire, seen for miles around, and the flatness of fenland fields.
The straw bales that will create the structure come from the harvested crop that is one of the main sources of income for people living in the fens; the fens being largely used for agriculture and farming.
As such, the location of this piece is considered to be in a field, far out from the Cathedral itself out in the fens, and possibly Horkstow Grange itself.
Because of the scale of the sculpture, and for safety reasons, it will be a solid sculpture, not accessible internally. This is integral, as it is a work of art, not an actual building.
The accessible nature of straw means that people unfamiliar with the building process can now participate in it. One of the biggest attributes of straw bale building is its capacity for creative fun. Building with bales can be inspiring and transformative, and not something to do alone.
Strawbale buildings were first constructed in the USA in the late 1800s, when baling machines were invented. There are about 70 straw buildings in the UK at the present time, with full planning permission and building regulation approval.
Straw is currently produced surplus to requirements. It is regarded as a waste product, and a bale costs on average £1.50 delivered or 40p from the field.
A bale of straw left out in the field and exposed to rain becomes water saturated and is too heavy to lift. To prevent this, the bales would need to be raised off the ground with a sacrificial layer of bales, and the rest stacked with a roof of thatch over the top.
For this work I will require:
• volunteer workers to help construct the building,
• the use of a farmer's field / land in which to construct the sculpture
• Roughly 94.936 straw bales with which to construct the sculpture
• collaboration with architects and construction companies to work out construction methods and costs, health and safety issues
• collaboration with farmers for use of land / materials / agricultural equipment
This is a community project, involving collaboration with architects, construction companies, farmers, and volunteers from the community to help build the sculpture. Fellow art students would form a core of volunteers, and also other artists and anyone interested in taking part in building a giant straw Cathedral.
I wish for all who would be involved in constructing this sculpture to enjoy participating in the building process, as building with straw is meant to be fun!!
Having no experience of large scale sculpture this is entirely experimental, although my family were arable farmers, and this work follows on from "Literal Space", a piece of sculpture inspired by Anthony Gormley.
I do not have any preconceptions of what people may think of the work; I'm interested to find out responses to this work.
Process
Lincoln Cathedral Dimensions – floor to roof capacity 150,000 cubic metres.
1 straw bale = approx 157.50cm2 (1.58m2)
Total amount of straw bales required: 94,936
Budget
1 straw bale = approx 157.50cm2
Cost of bales = 40p from field (£1.50 delivered)
Total bales required = 94,936
Total cost of bales = £37,9744 - £142,404
Approx cost of scaffolding £0.5 million
Health and Safety
I had considered the possibility of disposing of the sculpture by burning it (Antony Gormley burnt his junk man sculpture), however, the bales would need to be coated in fire retardant, and I've been informed that it's illegal to burn anything on farms. It would be wrong anyway.
The bales could be recycled after use, another use of straw is for making paper, so that could be a potential possibility.
Appendix
http://www.strawbalefutures.org.uk/
http://www.thisislincolnshire.co.uk/displayNode.jsp?nodeId=156582&command=displayContent&sourceNode=156408&contentPK=15943994&folderPk=87028&pNodeId=156139
http://en.wikipedia.org/wiki/Straw
http://www.edenproject.com/about/1594.html
www.antonygormley.com
http://www.designmuseum.org/design/superstudio
http://www.designmuseum.org/design/archigram
http://www.lincolncathedral.com/
http://www.locallife.co.uk/scunthorpe/crops3.asp?pageno=1
http://beehive.thisisgrimsby.co.uk/default.asp?WCI=SiteHome&ID=9182&PageID=51246
http://www.rilmac.co.uk/s-eg.php
J.M.Davey & Son
The Grange,
Horkstow,
Barton-on-Humber
North Lincolnshire
DN18 6BL
Successes
This proposal was successful, as I wrote to Mr. Davey, the owner of Horkstow Grange, and he was very interested in the proposal; he sent me an enthusiastic reply, adding further suggestions.
I also made the local paper with a story (and my photo) appearing in the Lincolnshire Echo.